Alberta Ferretti, stylist famous for the marked lightness of her clothes, thinks about the future through her style: to present an elegant and sensual woman, but at the same time romantic.
Alberta Ferretti's new collection, called Resort 2021, was presented on July 14th in Milan, during the first day of Milan Digital Fashion Week, exclusively online, on the platform of the National Chamber of Italian fashion.
During the presentation of Resort 2021, Alberta Ferretti reaffirmed the desire for refinement in modernity, the need to escape and to start going out again – after the events we know – and therefore for a new hope and rebirth.
Of course, nothing will be the same as before, we will go out less, but those times we do it, we will feel special and with the desire to stand out from the others, through clothes designed and reinterpreted through Ferretti's style.
The "Resort 2021" Online Collection
Through an imaginary journey through the most beautiful cities in Italy, Alberta Ferretti shows us on video the emotions of the new leaders in a virtual presentation that is a tribute to our nation.
And here the rigorous and sophisticated lines present themselves in this Resort 2021, in which Alberta dresses express all femininity, jackets and tuxedos with bright colors such as fuchsia but also tobacco, chemisier dresses to be worn alone or as pinafore shirts a mini top and wide high-waisted trousers, tunics made with three-dimensional materials such as macramé and sheath dresses in fabric with raffia fringes. Prints protagonists of this collection, declined in romantic flowers, stripes, paintings and tie-dye, used individually or proposed in a game of overlapping with a patchwork effect.
The shades of the colors show themselves between blue and blue, alongside those of pink and cherry, with touches of orange and sand, while Denim are colored instead of the usual blue classics, all in a romantic evening.
Alberta Ferretti's clothes, always intimate and light, continue to shine in the video, worn by models who pass from the Milan Gallery to St. Mark's Square in Venice, from the Colosseum in Rome to the more classic image of the Naples waterfront with Vesuvius on the background.
Alberta Ferretti Shop Online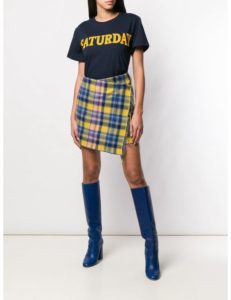 Buy on our e-commerce the Alberta Ferretti collection, which boasts in addition to elegant clothes, also several Capsule Collections dedicated to Alitalia, weather conditions and days of the week.