When we talk about Burberry, we don't just think of the tartan style, the brand's trademark, because there is a garment that still has a charm that never sets, a garment that was created a long time ago, but that was capable of to change and transform over time: the Burberry Trench.
Even today, the Burberry trench coat is the reference point for women who love the evergreen style, one of the most popular outerwear, which releases style for the wearer.
The history of the Burberry Trench
Back in 1856, in England, a young tailor named Thomas Burberry opens the first shop bearing his surname.
Thomas' business begins to flourish, giving the tailor the opportunity to expand and acquire more and more experiences and create new fabrics, experimenting with new garments.
Given the adverse climatic conditions that were spreading in England, Thomas Burberry set himself the goal of creating a garment that protected from the cold and rain, producing gabardine, an innovative fabric that had the advantage of being waterproof, breathable and comfortable.
This innovative fabric will be used for the production of garments in the military field, precisely in the aviation sector, where shipments required weatherproof garments.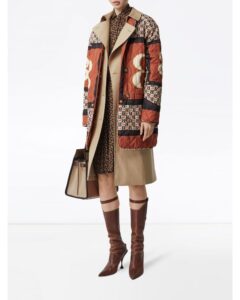 Burberry raincoat and Tartan pattern
The Burberry trench coat is inspired by a well-known coat called Tielocken, which had the characteristic buckles to close it, and a single button on the neck.
The Burberry trench coat, or raincoat, was born in the period of the First World War, therefore between 1915 and 1918, and was immediately a success, thanks to its resistance and functionality.
The Burberry trench coat is also recognized for the possibility of being able to attach various military equipment, through applied accessories, among these, the functional shoulder straps with rings, the belt with hooks and windbreak and rainproof flaps.
The Burberry women's trench coat will become an icon of women's fashion, when in the future the coat will be lined with that Tartan pattern, a prerogative of the Brand, becoming a must have.
Buy on our e-commerce Burberrys Trench for women at competitive prices!