Dolce and Gabbana, for the new autumn-winter 2019/20 collection, chose a unique and fascinating location, the Valley of the Temples of Agrigento.
Sicily, for Domenico Dolce and Stefano Gabbana, is the most beautiful place in the world and the atmosphere of the Valley of the Temples baptizes the combination of art and fashion, leaving the audience breathless.
The Dolce and Gabbana event lasted four days, including jewelry and men's tailoring, the Italian high fashion brand, presented a collection of women's dresses inspired by the ancient Greek gods, such as Aphrodite, Era, Athena and Artemis.
The breathtaking fashion show held in the Temple of Concord, highlighted the beauty of women's clothes, unique handmade haute couture creations, which require days and days of work, enhanced by those classic details that our seamstresses have painted, embroidered and sewn on clothes.
The same designers have declared, that it would take hours to accurately describe the work done for each Dolce and Gabbana dress, the different materials used, the collaboration with the artisans, suppliers of fabrics and accessories.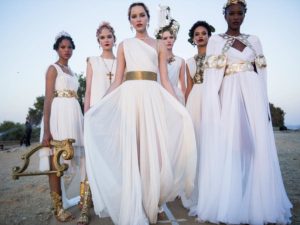 Temple of Concord, a sacred and exceptional place for divine clothes
The archaeological park of the Valley of the Temples in Agrigento, the largest and oldest in the world, as well as being the largest site outside of Greece and a UNESCO heritage site, has granted permission for a fashion show inside the Temple of Concord for the first time ever.
The Temple of Concord is the main attraction of the archaeological site of the valley, dating back to 430 BC, has been preserved so well that it is second only to the Theseidon of Athens.
For the fashion show, Dolce and Gabbana has set up an elevated walkway, so as not to let the models touch the ground, because being sacred ground, no one can step on it; the walkway will remain available to tourists who will visit the Temple for about a month.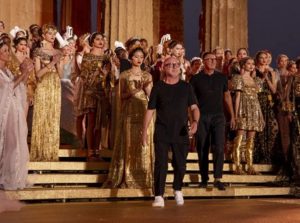 It was not easy to get permission to hold such an important fashion event in the Temple of Concord, but now we can say that the unmentionable dream of many has become reality, with the glittering artistic scenery that viewers could see as if they were in a film inspired by the mythological legends of ancient Greece.
You can buy Dolce and Gabbana clothes and other accessories from the well-known Italian brand, on our e-commerce Parisitaormina.com.