The designer Alessandro Michele, creative director of Gucci, after having traveled the world, returns to Rome, right where he was born and started his great career in the fashion world.
Alessandro Michele has a Florentine soul, but his heart is Roman; in fact the designer, who chose the Capitol for his fashion shows of the Cruise 2020 event, was born in the Roman suburbs on November 25th 1972 and became creative director of the Gucci fashion house in January 2015.
A great success, which led him to create increasingly innovative and successful collections, bringing the Gucci Brand to conquer the world. His style enchants and convinces enough to make him a fashion icon named as the only Italian among the "100 most influential People" of the Times.
The great success achieved is also due to the choice of promoting street wear and renewing the image of the brand by making the most of social media.
After having participated in the restoration of the Tarpea Rock at the Campidoglio, the place that will host the great Cruise 2020 fashion show, two other locations of history and art are added to the Gucci fashion show, the Angelica Library and the Cascianelli Library.
Cruise 2020 event
Gucci chooses the Roman Capitoline museums for its fashion shows, between art and culture, the modern fashion shows will caress the ancient Roman arches and statues.
The Gucci men's fashion is always intentionally similar to the Gucci women's collection, but for this Cruise 2020 fashion show, the Italian designer has changed the cards on the table, inserting feminist clothes, winking at politics.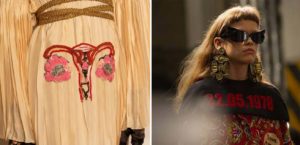 So there is room for white dresses with flowery uterus-shaped embroidery, writings related to the body on the jackets and given in red on sweaters referring to the law on the right to abortion.
In certain Roman environments, referring to the Vatican, this is paganism.
On our e-shop Parisitaormina.com you can buy men's, women's and children's clothing and accessories from the most important Italian and international brands, immediately connected and discover a huge amount of Gucci products online including:
Stay up to date, follow us on Instagram, Facebook and Twitter with #parisitaormina, subscribe to our pages and register for the Mailing list on our site, lots of offers await you.