Gucci wants to change the world of fashion show, or rather, the business of shows.
After Armani, the Italian brand also joined the chorus of brands and retailers, asking for a substantial global change in the system that revolves around fashion after Covid-19.
On Monday, Alessandro Michele, Gucci's creative director, held a video conference to announce that his brand will reduce the number of fashion shows he holds every year from five to two, also eliminating the distinction between men's clothing and women's clothing, and the traditional denominations of autumn / winter and spring / summer seasons.
"We need new oxygen to allow this complex system to be reborn," said Michele, speaking from his studio in Rome, and one way to do it is to shorten the program of shows, which often repeat themselves, risking to compromise originality.
Gucci is not the first brand to announce a change in its plans with regards to catwalks; the effects of the pandemic led the fashion industry to an unexpected halt, with serious consequences and decimating budgets.
Saint Laurent, also owned by Kering, Gucci's parent company, has said that it will abandon the parade season and follow its differentiated program for this year, while Giorgio Armani has announced that the parades of his men and women will return in September, and will be held in Milan instead of Paris.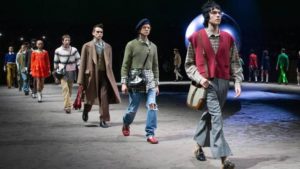 But Gucci is the first brand to engage in permanent rethinking, although, as is its trend, Alessandro Michele gives more importance to philosophy than focusing on details and his announcement, could have a domino effect on other brands.
Ultimately, the brand could impose a showdown of the entire season of the ready-to-wear show, which includes the four-week itinerary, moving from New York to London and from Milan to Paris, every September- October and February-March.
Marco Bizzarri, CEO of Gucci, announced the decision to reduce the show program, although it was not clear when the first "new appointments" would take place after the lockdown imposed for covid-19.
Michele said he believed an event in physical format was impossible in September, but on July 17, during Milan's digital fashion week, Gucci will broadcast on video what would have been his flagship collection, called "Epilogue".
As for the dates of the two Gucci events, according to Michele, the end of spring and the beginning of autumn would have been perfect, but given the uncertainty that brought Covid-19, it is difficult to hypothesize the exact dates, and if the events will be held in physical or digital format.
Gucci shop online
On our E-commerce you will find the best Gucci clothing for men and women, shop online safely, fast shipping.