Alessandro Michele, creative director of Gucci, started an intense and creative journey in February, which ended with the latest Gucci Epilogue collection for the 20/21 winter season.
The new Gucci collection, called "Epilogue", is composed of 76 looks that pay homage to the 70s, in which the Gucci style exudes from all sides.
The style of the clothes and accessories speak of freedom of expression, in their colorful images and prints, for many but not all, because they interpret those canons of appearing different and original.
The fashion show of the new Gucci collection was accompanied by a direct streaming, which revealed the making-off of the show, in order to make the spectator feel immersed and part of the event.
The Epilogue collection is the last part of a love story towards their work, and towards all the collaborators of Alessandro Michele, who have done hard work behind the scenes, deserving to become protagonists in the eyes of the general public.
Here the creators become performers, you hear it during the live broadcast: the designers themselves wear the garments, not the professional models, but the people who work in the style office or in other business areas, and who contribute daily to the success of the brand name.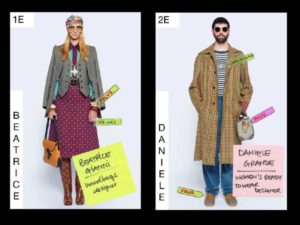 As you can see from the shots, here are the notes of the looks, the names and the professions of the wearer. Beatrice, for example, handbag designer, handbags designer, while Daniele, who designs women's clothing.
There is a great desire to start again after the pandemic, and "Epilogue: The final part of a fairytale" is at the same time a beginning, a creative idea that goes well with the period of forced isolation, from fears to uncertainties.
A period that has matured many of the important names in the fashion sector, with the desire to start again, changing the classic fashion system.