Philipp Plein never denies himself! For the new Spring / Summer 2020 season, it leads street warriors to parade in a post-apocalyptic desert.The theme seems to be that of Mad Max's films, with trucks full of mutants and a band of rocking bikers, flames and rock music shot at everything volume does the rest! The parade of the new brave collection of Philipp Plein begins, which returns to Milan with a show full of looks and models to show, which shows a round, the DNA of the German brand.With a powerful rock soundtrack, the punk rebel models of Philipp Plein paraded wildly on the catwalk, overloaded with rock music. In a riot of special effects, flames and roar, Plein's urban rocker wears studded python leather jackets, high-top sneakers, printed jeans, hoodies and the inevitable bandana on the face.
Philipp Plein's women are fully loaded in metallic dresses with sequins and exaggerated shoulders, biker jackets worn with floor-length dresses, rock shirts and miniskirt suits, and again, studded corsets full of heavy jewelry, boots with high buckles up to the thigh, leather jackets and sandals with very high heels.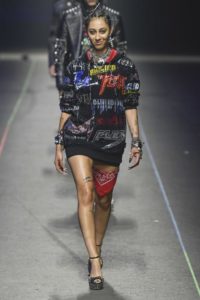 An arsenal of Philipp Plein logos and symbols and dragster flame works of art give energy to denim; hardware, spikes and silver chains offer armor-like protection, while the band's official logo appears on patches, T-shirts, dresses and dresses.In the final part of the Philipp Plein fashion show or exclusive show, on the notes of Depeche Mode, the models exhibit fire-breathing guitars, just like in the apocalyptic film, leaving the viewer of the show open-mouthed.Buy online the Philipp Plein men's / women's collection on our e-commerce, from Parisi Taormina you will find the best products of the German brand, such as shoes, leather jackets, t-shirts, sweatshirts and much more.