After the presentation of the Spring / Summer 2020 collection, held last year in Milan and inspired by the Mad Max Fury Road film, we are pleased to offer our customers some of those Philipp Plein garments and accessories.
With the motto "No Plein, no Elegance", which represents the summary of the glorious Philipp Plein brand, you can choose between different clothing, both casual and more sporty, with darker shades than ever, patches and logos embroidered on clothing, which they are a perfect fusion of punk rock and modern multi-function design.
If this were not enough, we also have two-piece coordinated suits, T-shirts to be worn daily with different fantasy figures that certainly do not go unnoticed, hats and sneakers: all this is Philipp Plein Sport.
Philipp Plein Clothing
In the Latest Arrivals dedicated to the 2020 summer collection, Parisi Taormina offers you a wide range of Philipp Plein T shirts, ranging from black with white or red prints of skulls, brand logos or the famous Teddy Bear, to end with white with black or silver prints.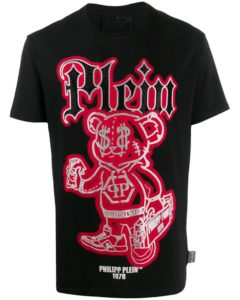 Among the men's accessories, we find the beautiful black baseball cap with the metallic brand logo embroidered on the front.
For those who want to dress casual, here are the fantastic Super Straight Cut Original Evil Walks Jeans, proposed in standard color with cuts below the knee, to be fashionable and in the punk version, or the Statement model, in black, with a more serious and elegant. Pair Plein t-shirts with these Jeans for an aggressive and original look!
If you like the sporty look, but at the same time quality, here is the Full zip sweatshirt with black hood with logo embroidery on the top left and the white "Philipp Plein" written in rubber and highlighted on the right side above the waist; the cuffs and the sweatshirt finish are with white stripes.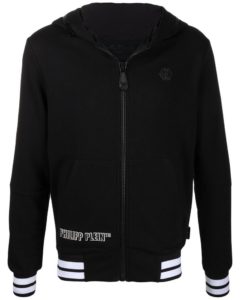 To be more comfortable, here is the black trousers with white stripes to combine with the sweatshirt, for a trendy and meticulously coordinated sports suit.
Finally here are two models of men's sneakers, elegant and full of details:
-The Top Statement sneakers, white, with metallic brand logo sewn on the side
-Sneaker The Top Plein Star, for those who love the future rock style, a pair of white shoes with black details, designed skull and metallic pegs on the sides and front, in full punk theme.