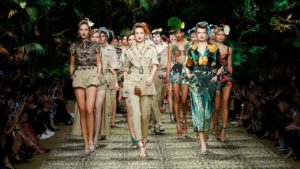 Women can live in a "wild jungle like modern nymphs", this is the slogan of the new Dolce and Gabbana clothing collection for the spring / summer 2020 season.
A scenario, that of the Dolce & Gabbana fashion show, where the woman is represented as a sensual divinity of nature; woods, seas and rivers, trees, but also cities or states, are the masters of colors and shapes, dressing a strong and dynamic woman.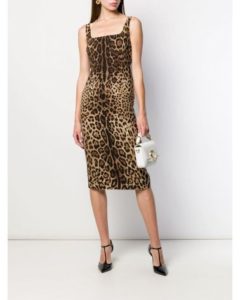 The woman who wears Dolce and Gabbana 2020 clothes, is confident, sexy and slender on stiletto heels, always smiling and accompanied by colored bags in the shape of hearts or forest animals, such as zebras and parrots, and precious fabrics such as raffia, chiffon and silk.
Fabrics such as raffia, of which some beautiful Dolce and Gabbana dresses are composed, is used by Tuscan artisans, who work it by hand with the Crochet technique, highlighting the true sartorial tradition.
The style of the woman on the catwalk is also multi-ethnic, the fusion of different nations creates an alchemy of traditions and spirituality, with the alternation of sensual tropical-style dresses with pants and safari-style jumpsuits, with flowers in hairstyles and red lips.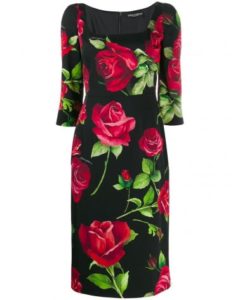 The slogan of this Dolce and Gabbana summer collection, we can call it "Welcome in the Jungle", which refers a lot to that Versace Jungle Dress superbly worn by the beautiful Jennifer Lopez, bringing sensual and animal-style dresses to the stage on stage. the predominant green color is a hit in the spring / summer 2020 season.
Dolce and Gabbana shop online
At Parisi Taormina you will always find the new Dolce and Gabbana collections online, buy on our e-shop with absolute security and competitive prices, always visit the Dolce e Gabbana sale section, to buy products at discounted prices.