The new winter 2020/21 collection of Zanotti shoes  was presented in a pre-covid climate defined by the Italian designer himself, chaotic.
Giuseppe Zanotti, who has always made shoes with a contemporary character, inspired by art and music, presented shoes with a strong, decisive and sensual style in this new winter catwalk.
Directly from the words of the Italian designer, the new Zanotti shoes collection is divided into three product ranges:
-As the first band, there are evening shoes, elegant, made with silk, rhinestones, which give off the whole culture of Italian-style women's footwear;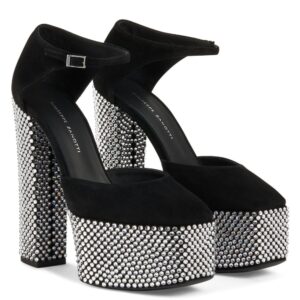 – As a second band, footwear with contemporary elements, therefore elegant shoes with heels but with square or round shapes, which have a very aggressive style, with leathers that are vegan paints, not of animal origin; we also have bikers, who seem to be a fusion between biker and kombat or trekking, also made with vegan materials, a choice dictated by what are now the necessary needs from an ethical point of view, to be able to create fashion and design but with eco-friendly products.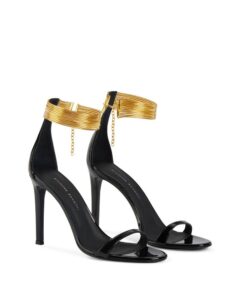 -For the third band, we find shoes with aggressive but very unbalanced shapes, almost close to the world of sneakers; where sneakers have heels to combine all the models, a mix of an endless past, an evening shoe that is always beautiful, to go to the theater or simply to have a cocktail with friends, modern but at the same time contemporary shoe .
For the rest of the collection, footwear where the tips no longer stand out, but made with more rounded shapes, if we want with less cleanliness, but more light-hearted Zanotti shoes, which have a lot of content, but no longer made with python skins or real crocodiles.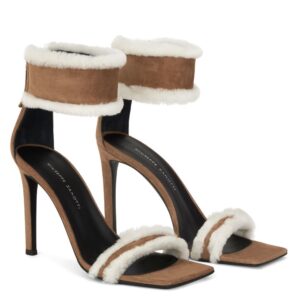 The furs present in the shoes are all made of wool or of ecological origin, but there are still those made with normal leathers, because in any case people still eat meat, and the leather is a natural recycling that can be used; we don't want to judge people's tastes, but Zanotti simply wants to be as a brand, very close to what is a more liveable and ecological world.
Buy Zanotti shoes on our e-commerce, you will find a vast collection of footwear by the eccentric Italian designer.