Beyoncè, the famous American singer, songwriter, actress, director, humanitarian and record producer, triumphed at the 2021 Grammys, winning three awards, wearing a Burberry dress as a second look, created for the occasion by the new designer Riccardo Tisci.
Beyoncè, pop music icon of the last decade, is always busy traveling from country to country, for her music tours, very good on stage and in dance performances, she also delights fans for her clothing, wearing fabulous clothes at every concert.
This week, on the occasion of the 2021 Grammys, she chose as a second outfit to wear a custom Burberry dress designed by the Chief Creative Officer Riccardo Tisci, a beautiful dress but made perfect by the body of the famous artist.
In addition to being a Burberry dress, it was also the first to be created by the new creative director of the brand, the well-known Riccardo Tisci, of whom no live projects had yet been seen, except for the debut of the new monogram and logo for the fashion house British; this dress worn by Beyoncè can give us an idea of ​​how the design of the brand will be under her leadership.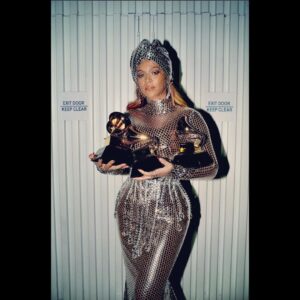 The Burberry dress, embroidered in silver-colored mesh, with decorated cage corset and crystal chain, was entirely studded with studs, complemented by boots with leather heels, with headgear with silver mesh veil and various applications.
Needless to reiterate, Beyoncè shone like a star, as always, an apt choice and made even more brilliant in the evening that consecrated her the absolute star of the Grammys, winning three awards out of nine nominations: Best R&B performance, Best music video and Best rap song.
Parisi Taormina offers you a wide Burberry  collection for men, women and children, buy online on our e-commerce, fast shipping and secure payments.