The Fay brand, until the early 80s, was synonymous with professional technical clothing, in fact it was worn by firefighters and fishermen; thanks to the resistance of the fabrics, the Fay jacket were suitable for extreme jobs.
Diego and Andrea Della Valle, Italian entrepreneurs at the head of the Tod's group, which deals with footwear and clothing, perceive the potential of these jackets, and take over the Fay brand with a very specific idea: work that is suitable for urban use.
There are many advantages in transforming a work jacket into a garment to wear daily to go to work, or face cold and rainy days, one above all that of protecting the body from the cold of winter, wrapped in resistant, warm fabrics. and comfortable.
Thus the Fay jackets become excellent garments, rising to cult objects in many European countries, suffice it to mention the 4 Ganci jacket, an iconic garment, always updated and reinterpreted, which stands out for the resistance of the fabrics and the practicality of the accessories.
Since that time, the Fay brand, always linked to tradition and made in Italy design, has continued its growth, creating increasingly innovative garments with a vintage touch, a combination of style, excellence and practicality.
Fay Archive, born in America but with an Italian soul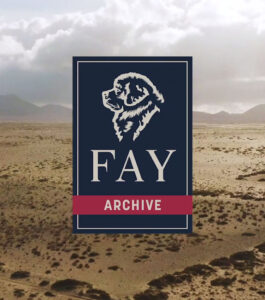 Thus was born the need to create garments that retraced the past of the brand, from the soul of workwear made in the USA to Italian taste and design: Fay Archive.
Fay Archive is a must of the brand, which possesses Fay's DNA from its origins to the fusion with the innovation of garments to be used in urban places of all kinds, from the city to open spaces.
To promote the new spin-off brand, Fay chooses as location, the majestic setting of the Lofoten islands, a place that represents fishing, adventure, cold weather, which lends itself well to jackets designed for extreme environments, but also more environments. citizens.
In this climate and adventurous place, Fay Archive traces history, relying on the creativity of the designer Alessandro Squarzi, expert in men's clothing.
The result is a contemporary version of the iconic 4 Ganci Jacket, to be combined with the Reversible Jacket.
Buy Fay clothing for men and women on Parisi Taormina, also available the Fay Junior brand for boys and girls.